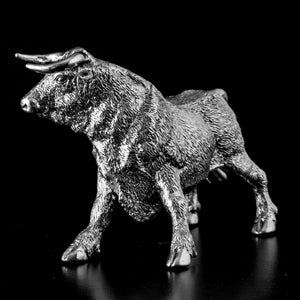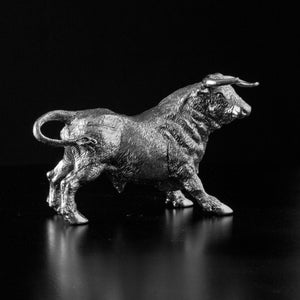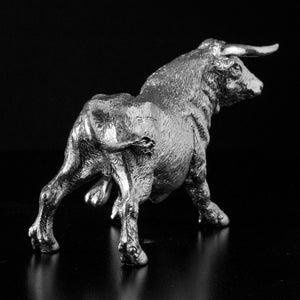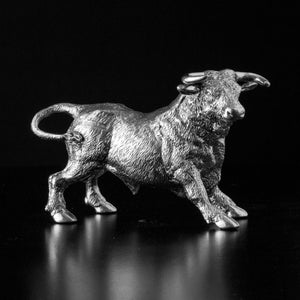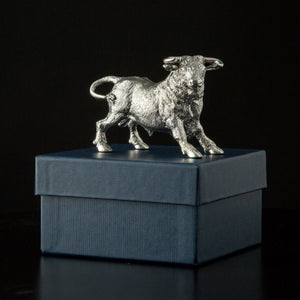 Agricultural
Silver Bull - Height 8.5cm
9387 - Sterling Silver Bull
Sterling Silver Bull.  Clearly hallmarked
Hand made to order 1 - 2 weeks delivery
8.5cm in height
Best at fair Trophy.
Taurus Astrology Animal.
Silver Farming Award.
Made in England.
This silver Bull ornament is a stunning piece of English silverware. He stands 8.5cm in height and has silver hallmarks stamped on his rump. 
Our silver Bull figure is the ideal size for a silver trophy and sits well on any table or mantelpiece.  He makes a great silver gift to pass down through a family and for this reason he is often bought as a Wedding Gift or to mark an important birthday.
The bull is the astrological symbol for the star sign Taurus and this fine beast makes the perfect gift for those born between 20th April and 21st May. Taurus was the first of the astrological sign of the zodiac to be established by the Mesopotamians - they knew it as the "Bull of Heaven".
This gorgeous, sturdy silver Taurus bull is the ideal gift for a Taurean on their 18th or 21st birthday - a gift to be treasured forever. He is most definitely not castrated and thus makes a marvellous gift for the man in your life!
All of our silver animal ornaments are crafted in the UK and sent to you in a dark blue gift box. 
---
---
You may also like these animals