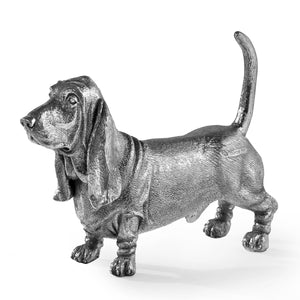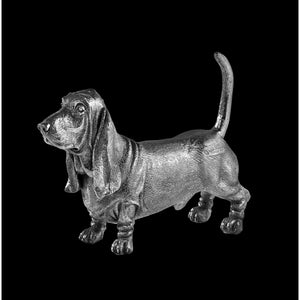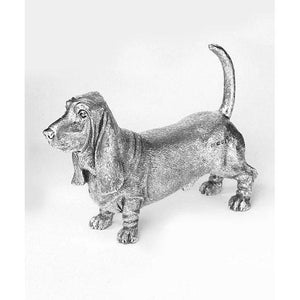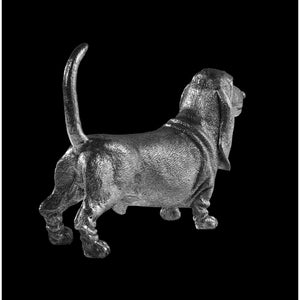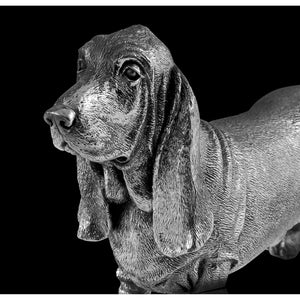 Cats & Dogs
Silver Basset Hound - Height 12.75cm
Basset - Sterling Silver Basset Hound
Sterling Silver Basset Hound. Clearly hallmarked
Hand-crafted. Ready for immediate dispatch
Satin Finish
Height 12.75cm. Length 15.25cm
357g in weight
Gift for dog lover
Made in England
The detail on our silver Basset Hound ornament is quite remarkable.  It would seem that each hair of his coat has been etched.  Our Basset Hound figurine is full or character and will look good in any home. 
He is handcrafted by a small team of dedicated, time-served silversmiths in England and he is clearly hallmarked.  He makes a wonderful housewarming gift, wedding present or silver item to mark a retirement. Every dog lover adores a Basset Hound.
Basset Hounds or blood hounds are well-known for their soft, velvety ears and furrowed brow. Our silver Basset Hound captures the sad features of this blood hound very well. It would be wrong to say that Basset Hounds are sad and mournful. They make great family pets. Blood Hounds are not renowned for being affectionate but they are intensely loyal.
All of our silver animal ornaments are made in the UK and are forwarded to you in a gift box. 
---
---
You may also like these animals