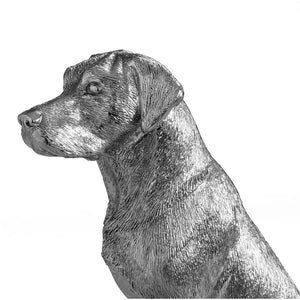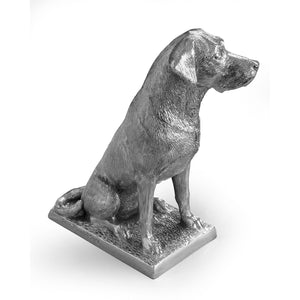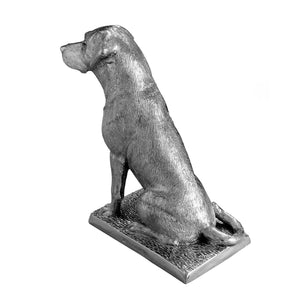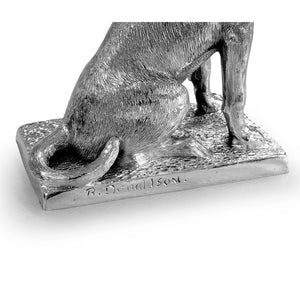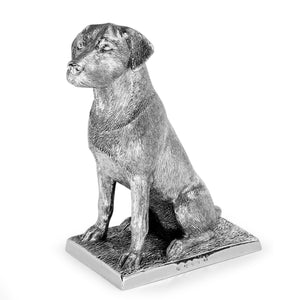 Cats & Dogs
Silver Labrador - Height 16.5cm
satinlab - sterling silver Labrador
Sterling Silver Labrador.  Clearly hallmarked.
Handmade to order.  Please allow 1 - 2 weeks delivery.
Height 16.5cm.
Satin finish silver Labrador.
Luxury gift for dog lover.
Gun dog.
Made in England.
If your order is urgent please call the Silver Basket direct on 07725 465 339
This Labrador model is part of a range of silver Labradors to buy. There is a price and size to suit everyone. This particular silver Labrador ornament has a satin finish and is handcrafted by English, time-served silversmiths from hallmarked sterling silver. He stands 16.5cm in height and comes complete with gift box.
Until recently it was understood that there were three types of labrador, the black, the chocolate and the yellow labrador but now there is alot of discussion about a fourth - the silver labrador. The discussions can get quite heated, deciding whether the silver labrador is in fact a 'true labrador'.
They differ in that instead of the usual distinctive strong shade of colour the coat has a paler, softer appearance. This is brought about by the dilution in colour of a chocolate labrador - a silver labrador is not to be confused with a 'white' labrador which is the palest version of a yellow labrador.
---
---
You may also like these animals