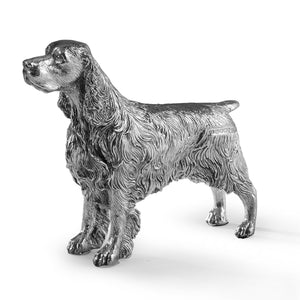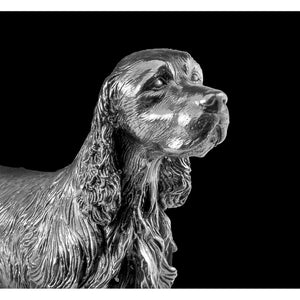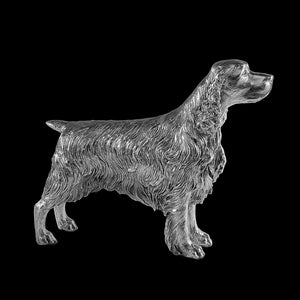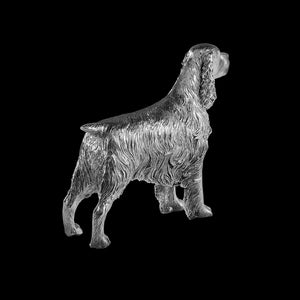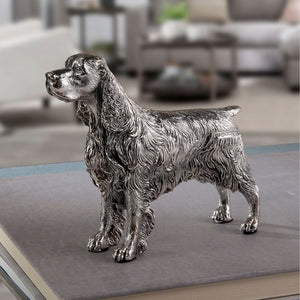 Cats & Dogs
Silver Springer Spaniel - Height 11.5cm
Springer - Sterling Silver Springer Spaniel standing
Fine Sterling Silver Springer Spaniel. 
Clearly hallmarked.
Ready for immediate dispatch.
Height 11.5cm.  Length 13cm.
Standing Springer Spaniel.
Luxury silver gift for dog lover.
Made in England.
This is a very attractive Silver Springer Spaniel, hand-crafted from the very best in Fine, English Sterling Silver.  The detailing is quite intricate and the silversmith has captured the devoted expression so typical of a Springer Spaniel. 
This really is a lovely figurine and will become a much treasured silver gift for years to come.
Springer spaniels are classed as gun dogs, used to flush out and cause game to 'spring'. They are intelligent and loyal dogs making them good to work with. They also make fabulous family pets as they are affectionate, trustworthy and even in temperament.
They certainly are very attractive dogs with their soft coats, solid bodies and feathery tails.Whilst Springer spaniels are loving dogs they are not ideal for first time dog owners.
They are intelligent creatures and take quite a bit of handling when they are boisterous and young. They are slower to mature than other breeds of dogs and require a lot of patience and firm training.
They are best suited to those who love the outdoor life and want a loyal and enthusiastic canine friend at their side. 
---
---
You may also like these animals