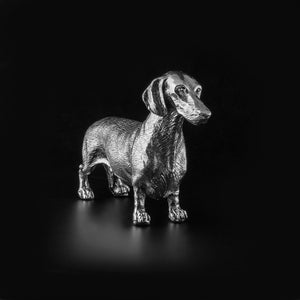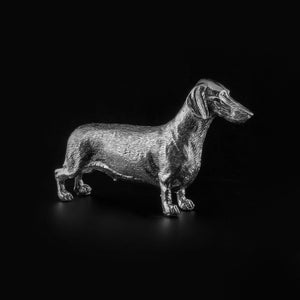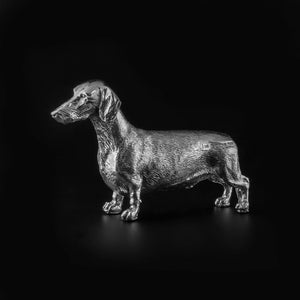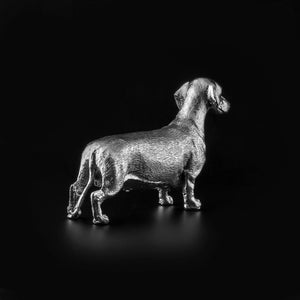 Cats & Dogs
Silver Dachshund - Height 6.5cm
dach
Fine sterling silver. Clearly Hallmarked.
Made in UK.
Please allow 1 week delivery.
Fabulous small silver Dachshund
6.5cm height. Length 11cm.
Gift for dog lover.
This little boy is an absolute treasure! He is a sterling silver dachshund ornament measuring 6.5cm in height and 11cm in length.
He is beautifully and intricately crafted with the markings of his coat shown in great detail. This dachshund figure has a high sheen and, also relatively small compared to our other animals, he creates an impressive impact. 
There is no mistaking a Dachshund with their short legs, long back and barrel shaped bodies and despite their unique appearance there are, infact, 6 different varieties.
Such is their appearance that they are often called sausage dogs! But do be aware, despite their cute appearance they are quite poweful little dogs with strong muscular bodies and jaws designed to flush out and kill rabbits. Their front paws are excellent for digging.
Dachshunds are playful loyal little dogs but do not be too taken in, they are quite stubborn and difficult to train, having a strong mind of their own. 
---
---
You may also like these animals